Spinal Preload Piston Tests
Engineers and technicians at LME's Asheville and Annapolis locations have joined forces to design, produce, and test a Spinal Preload Piston (SPP). The SPP project is sponsored by the U.S. Air Force as a Small Business Innovative Research (SBIR) project. The SPP is being developed for potential use in USAF ACES-II ejection seats. The SPP consists of a small piston containing an explosive charge that operates at the start of the ejection seat sequence. The piston places a "preload" on the spine of the ejecting aircrew. This preload positions the spine of all aircrew from the 5% small female through the 95% large male for the remainder of the ejection sequence. The expectation is that the SPP will be capable of eliminating virtually all back injuries currently being sustained in ejection seats.
---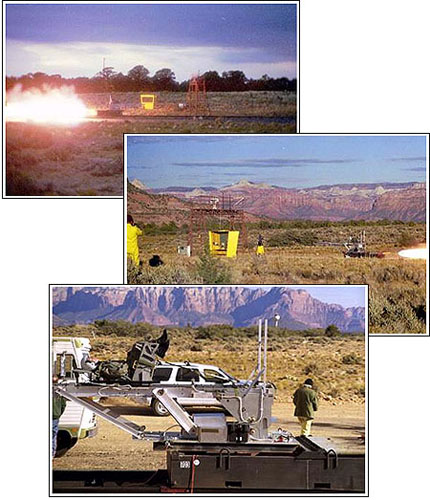 ---
In November, 2000, the SPP successfully completed dynamic testing at the UPCO Hurricane Mesa Test Track in Utah. (See photos.) Those tests verified extensive computer modeling conducted during Phase I and Phase II of the SBIR.
Phase II of the SBIR is now complete. Sponsors are sought to continue with a USAF/LME Phase III SBIR effort which will complete static and dynamic testing of multiple production quality test articles. For further information contact:
---
---
Logistics Management Engineering, Inc.


1356 Cape Saint Claire Road
Annapolis, MD 21409 • 410.757.6319